Search Alien Registration Records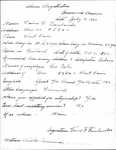 [From Digital Maine] "On June 14, 1940, Governor Lewis O. Barrows issued a proclamation stating that alien residents of Maine were required to register at their local town office. Over the next month over 30,000 people registered with their town. Overseen by the Adjutant General, the registrations were then collected by his office at which point the statistical data was extracted to create data sheets."
35,665 registration forms and cards from this collection may be searched through this interface. Correspondence, data sheets, and other documentation related to the registration will be found on the Digital Maine website.