Search Passenger Lists
The 8,189 names in this collection are taken from passenger manifests from Maine ports, beginning in the year 1820. Links to manifest images on FamilySearch are provided. Records have been indexed for the following ports and custom-house districts: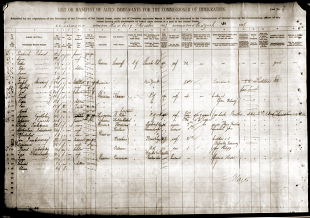 Bangor (1848)
Bath (1825-1867)
Belfast (1820-1851)
Frenchman's Bay (1821-1827)
Kennebunk (1820-1842)
Passamaquoddy (1820-1833)
Portland & Falmouth (1820-1847)
Waldoboro (1820-1833)
Yarmouth (1820)
All available passenger lists for Maine ports from 1820 to 1943 may be searched and viewed at Ancestry.com: Atlantic Ports Passenger Lists, 1820-1873 and 1893-1959(Disable ad blocker to view link).
Source: Copies of Lists of Passengers Arriving at Miscellaneous Ports on the Atlantic and Gulf Coasts and Ports on the Great Lakes, 1820-1873 (NARA Microfilm Series M575), Rolls M575-1, M575-2, M575-4, M575-7, M575-9, and M575-16